Easy Plumbing Preventative Maintenance For Your Highlands Ranch, CO Home
If you don't take care of your car, it stops running. You change the oil, rotate the tires and switch out sparkplugs, all to make sure you get a good, long, efficiently functioning life out of your vehicle. It's the same for your home - plumbing preventative maintenance is key to keeping your water system working well.
So why treat your home any differently?
Your home - in particular, your plumbing system - needs care to be its best. Without it, minor issues turn into catastrophic (and expensive) events. You want to live in your home comfortably, with all the modern comfort and conveniences you expect. With our Healthy Home Club, you'll be certain your plumbing system is there when you need it, ready to provide fresh, healthy water to your and your family.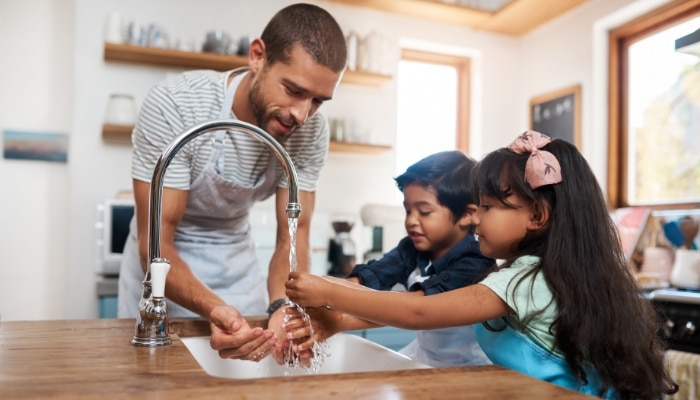 What Is The Healthy Home Club?
Simply put, the Healthy Home Club is our way of taking care of things for you while you focus on what's important. Enjoy peace of mind knowing your home's plumbing is well-maintained and as protected from disastrous breakdowns as it can be. For the low price of $19.99/month*, you'll receive:
Annual Full Home Inspection
Priority Scheduling
10% Off All Repairs
5% Off All Installations
6 Month Warranty On Drain Cleaning With Camera Inspection **
Lifetime Warranty On Water Heater ***
With the discounts alone, it pays for itself. But the comforting knowledge that the experts at Southside are taking care of your plumbing is priceless.
* - Additional water heaters can be added for $4.99/month each. Additional $4.99/month for tankless water heaters.
** - Warranty valid while plan is active.
*** - Warranty valid while plan is active; includes repairs on parts; excludes tank integrity. Water heater must have been provided and installed by Southside Plumbing.
What Plumbing Preventative Maintenance Is Included In The Full Home Inspection?
We're going to check your plumbing system from top to bottom to discover anything that might be wrong and ensure everything is being properly maintained. Your full home inspection features:
Water Quality Testing
Water Pressure Testing
Tagging Emergency Water & Shut-Off Valves
Checking Laundry Connections
Tightening Loose Faucet Handles
Testing All Faucets & Fixtures
Testing For Gas Leaks Electronically
Checking Home For Water Leaks
Checking All Stops, Supplies & Valves
Inspecting Standard Water Heater
PLUS you get an additional 5% off all services performed during your home inspection - giving you a chance to get the work you need completed while saving money.
Don't Delay & Join The Healthy Home Club Today!
For once, something that sounds too good to be true - isn't. The Healthy Home Club is the perfect way to remove any stress or concerns about your home's plumbing system, all backed by the expertise and experience of your friends at Southside. Ready to sign up? Contact us online or call (303) 346-8426 today!